Best hard drives 2018: the 10 best internal desktop and laptop hard drives today
In 2018, cloud storage is more ubiquitous than ever before, but regardless of how much we store with services like Dropbox and OneDrive, the best hard drives provide essential speed and capacity for operating systems, programs and crucial files.
The most important thing that all the best hard drives will offer is dependability – you don't want to lose hours of work or hundreds of precious photos because of a hard drive failure.
That's why we've created this list of the best hard drives for desktop and laptop PCs. Every single drive on this list has been extensively tested and ranked until only the best hard drives remained. Plus, this list will be updated regularly, so that no matter when you come back, you can be confident that you're getting the latest and the greatest.
If you're not after huge amounts of storage, for say, video editing, a 2TB drive is a great starting point. And with the constantly lower prices, you don't have to worry about spending much for great performance and spacious storage space. But remember – hard drives fill up fast.
So, in no particular order, here are the best internal hard disk drives (just bear in mind that your mileage will always vary when it comes to reliability so that was not taken into account when putting together that list).
1. Best internal hard disk drive (capacity, under £100)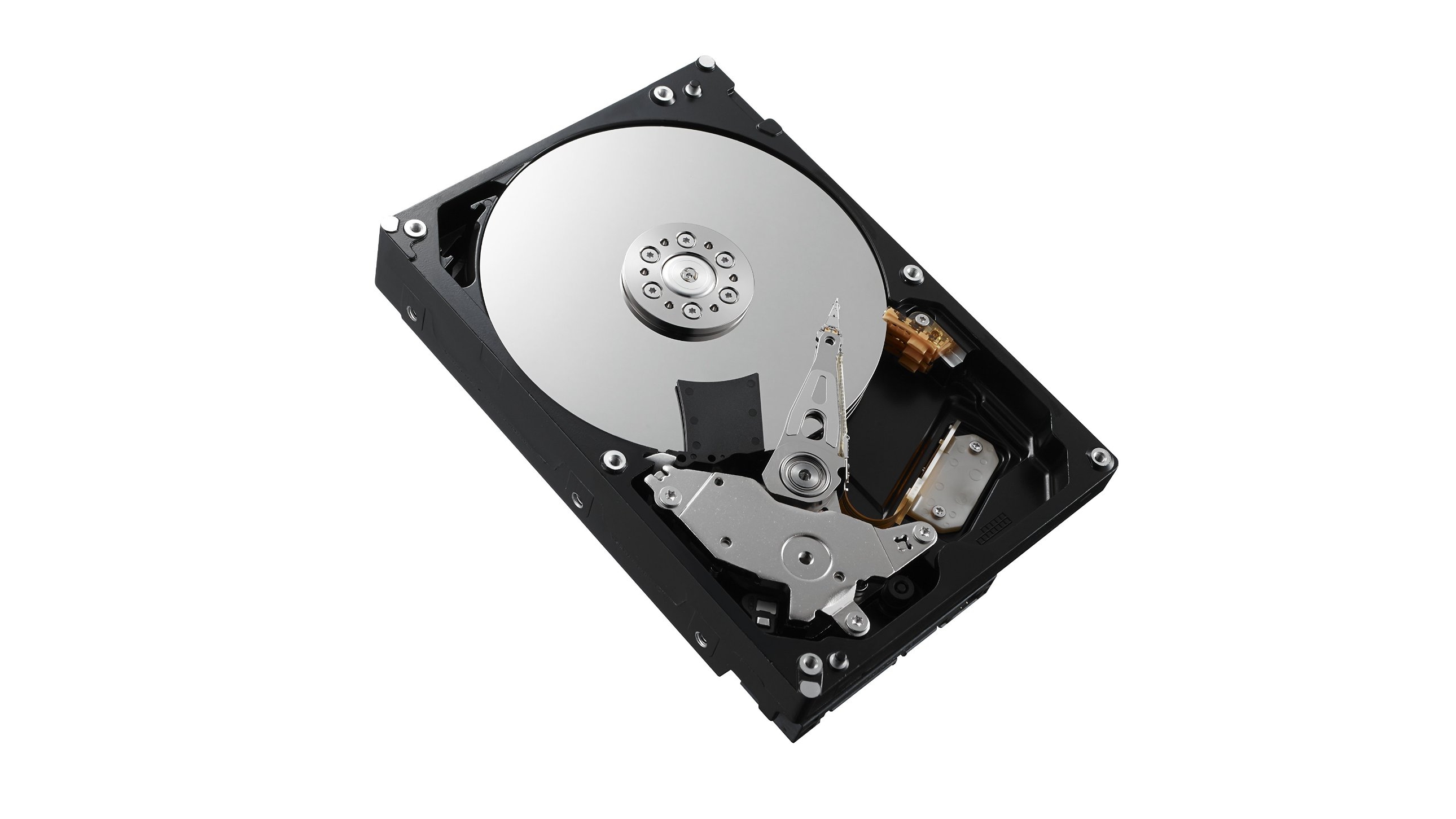 If all you care about is getting the most bang (or storage) for your buck, then you cannot do better than the Toshiba P300, a hard disk drive that has been designed to consume as little power as possible (just 6.4W in read/write mode).
The Japanese company, which invented flash memory amongst other things, is not well known for its storage devices. This model steals the show by offering the cheapest per TB price at just over£25.
This Toshiba drive has a 7200RPM rotational speed (faster than the 5400RPM models usually seen in this price range), with a surprisingly big 64MB cache and is relatively quiet when in use, at 25dBA. It is not the fastest drive around, but if you just want a cheap internal HDD, it's probably your best bet.
2. Best internal hard disk drive (overall value for money)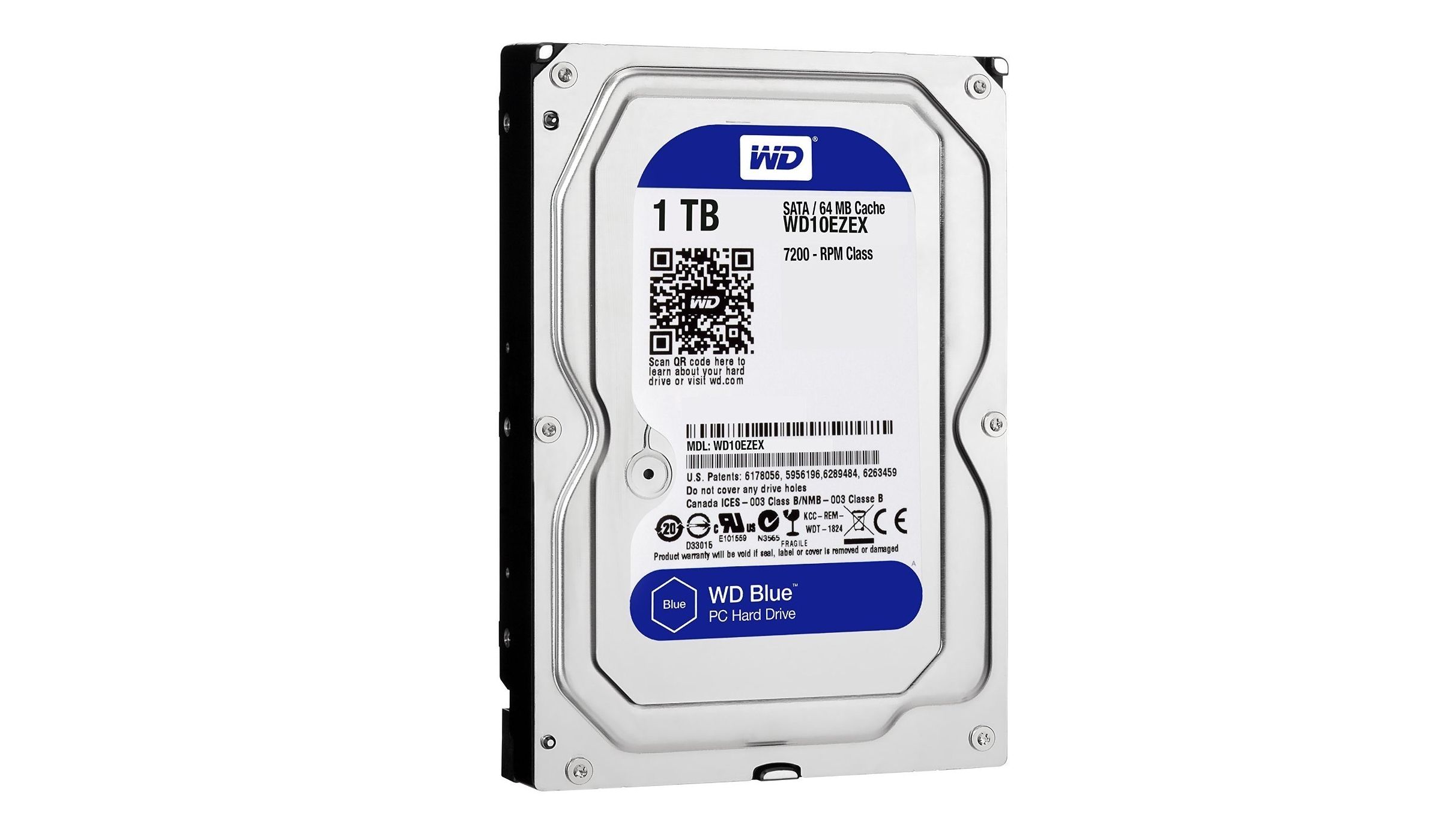 If you're looking for the best possible price for a large capacity hard drive, then the WD Blue 1TB hard drive is a good shout, at just £42.
It comes with 1TB of storage space, which is pretty impressive considering the price, 64MB buffer and is capable of 7200RPM speeds, so your data transfers are going to remain fast.
It's not the most efficient hard drive out there, as it uses 6w when in use, but for the price you'll need to make a few sacrifices.
If 1TB isn't enough, this drive also comes in 2TB – 6TB versions as well.
3. Best internal hard disk drive (for NAS)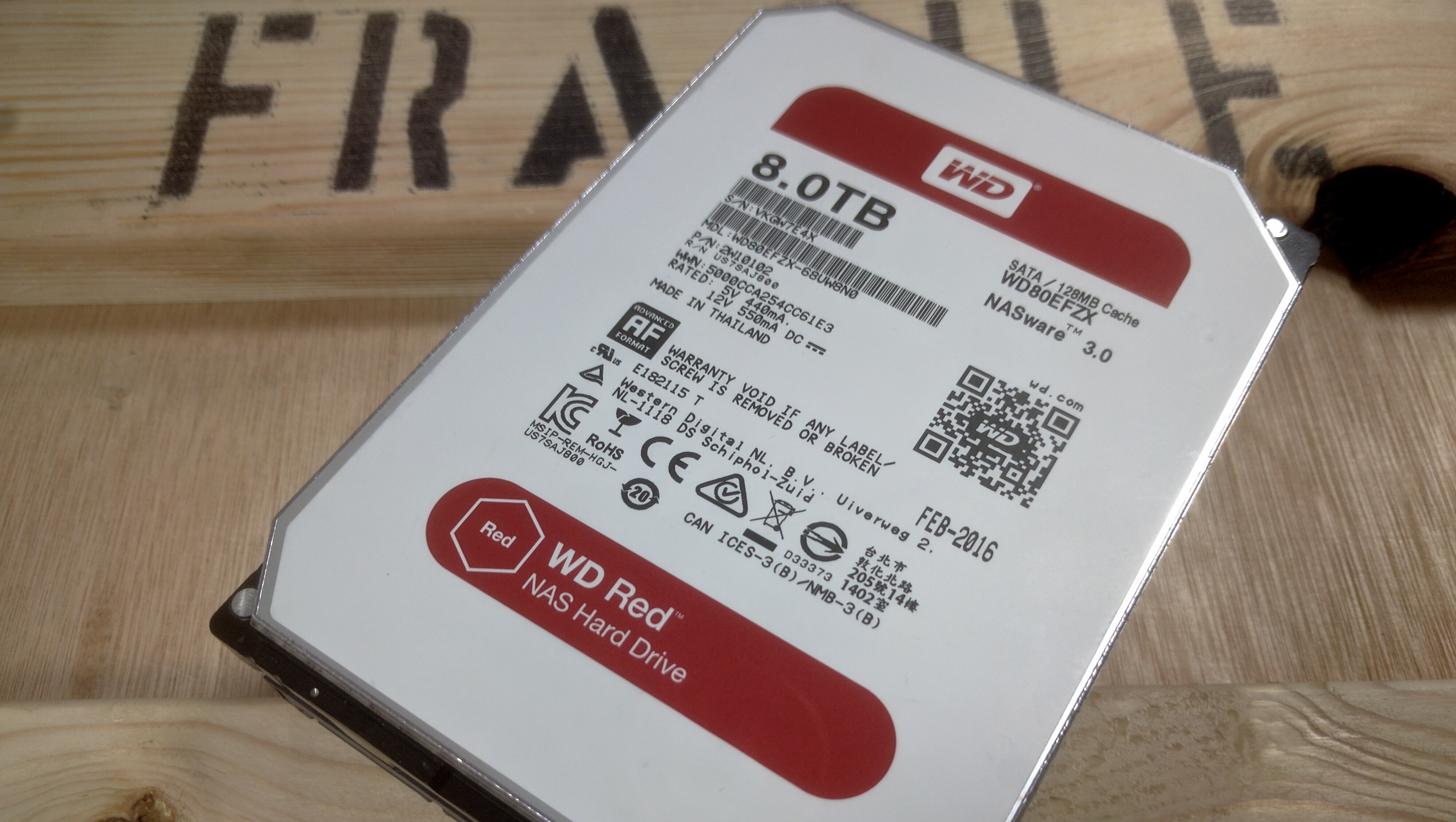 A recent evolution in the internal hard drive market has been the segmentation according to usage with NAS (network attached storage) being targeted as a particularly promising segment.
All the major HDD manufacturers (WD, Seagate and HGST) have introduced new NAS products. Toshiba is the only one without a dedicated NAS hard drive line.
Rather than focusing on performance, these drives zero on reliability and the ability to perform in a 24/7 environment which explains why they are usually bought in lots rather than individually.
If you want a high capacity hard drive with NAS-specific features for keeping it running safely 24/7, then the WD Red 8TB NAS is a great option. The high capacity means you can set up two or more of these in mirror RAID configurations and still have plenty of storage space for your important files.
4. Best internal hard disk drive (for capacity)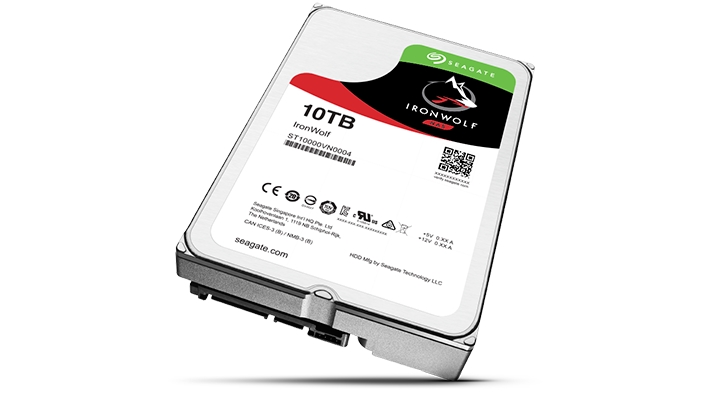 If you want the absolutely largest capacity hard drive on the market, then the Seagate IronWolf 10TB is the one you need, coming with a whopping 10TB of storage – currently the largest capacity you can buy.
All of this space comes at a (high) price, and you won't be able to pick it up for less than £400, which means this is best suited to professionals who need to keep their data safe.
Thankfully, the Seagate IronWolf 10TB comes with a number of features that makes the price more palatable, including error recovery controls, and pretty great transfer rates thanks to the SATA 6GB/s interface.
5. Best internal hard disk drive (hybrid)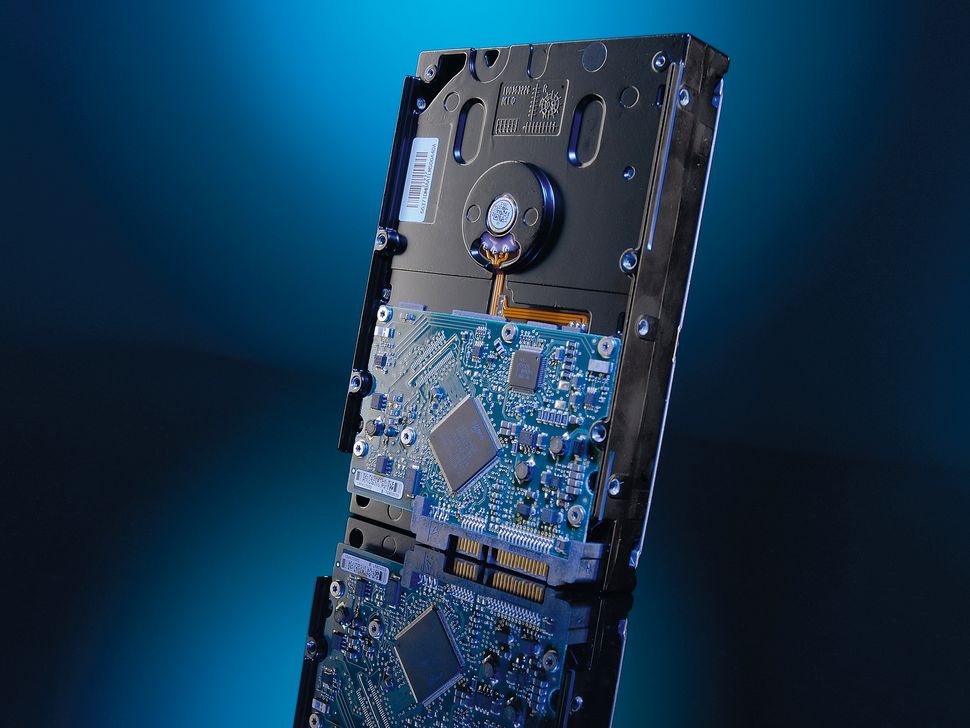 For some scenarios, desktop hybrid solid state and hard disk drives can offer a boost in performance without having to resort to two separate drives.
Seagate's 4TB desktop SSHD is an interesting proposition packing a 4TB spinning hard drive and 8GB of flash storage.
The drive is a 7200RPM model with a five-year warranty, 64MB cache and three platters – and now for the surprising part, it actually costs less than traditional HDDs with similar feature sets.
Seagate boldly claims that the drive performs five times faster than other 7200RPM HDDs and improves overall responsiveness by nearly a third.
Given the quasi-price parity between this and the rest of the 4TB competition, we'd argue that this is a no-brainer buy if you want to strike the right balance between performance and capacity.
6. Best hard disk drive for laptops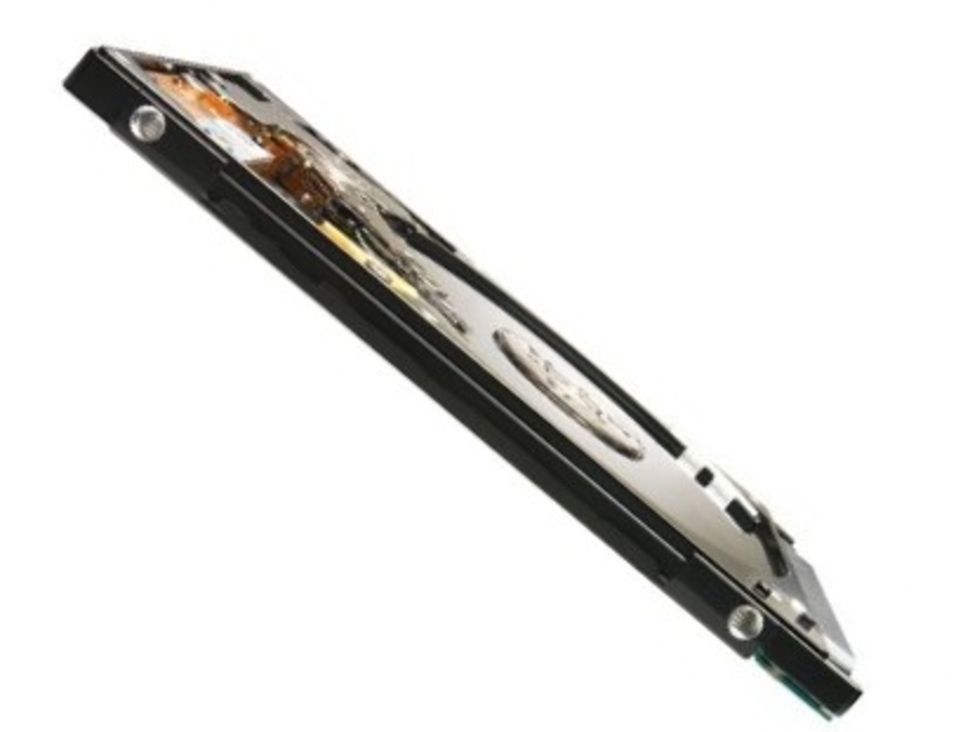 If you want to upgrade the hard disk drive in your laptop for something capacious rather than speedy, there's only one choice really – swap it for a 1TB hard disk drive.
The HGST Travelstar 1TB 2.5-inch hard disk drive is a great candidate and is part of the 5K1000 family, uses a pair of 500GB platters and has 8MB of cache. This is a 9.5mm drive so won't be compatible with a lot of laptops out there.
The 1TB WD Blue is a thinner 7mm model, backed by 16MB of cache with the rest of the specs similar to the HGST Travelstar (not really a surprise given that HGST and WD are part of the same holding).
That 2.5mm shrinkage comes at a price though, and you'll pay around 25% more compared to the Travelstar.
7. Best hard disk drive for laptops (gaming consoles)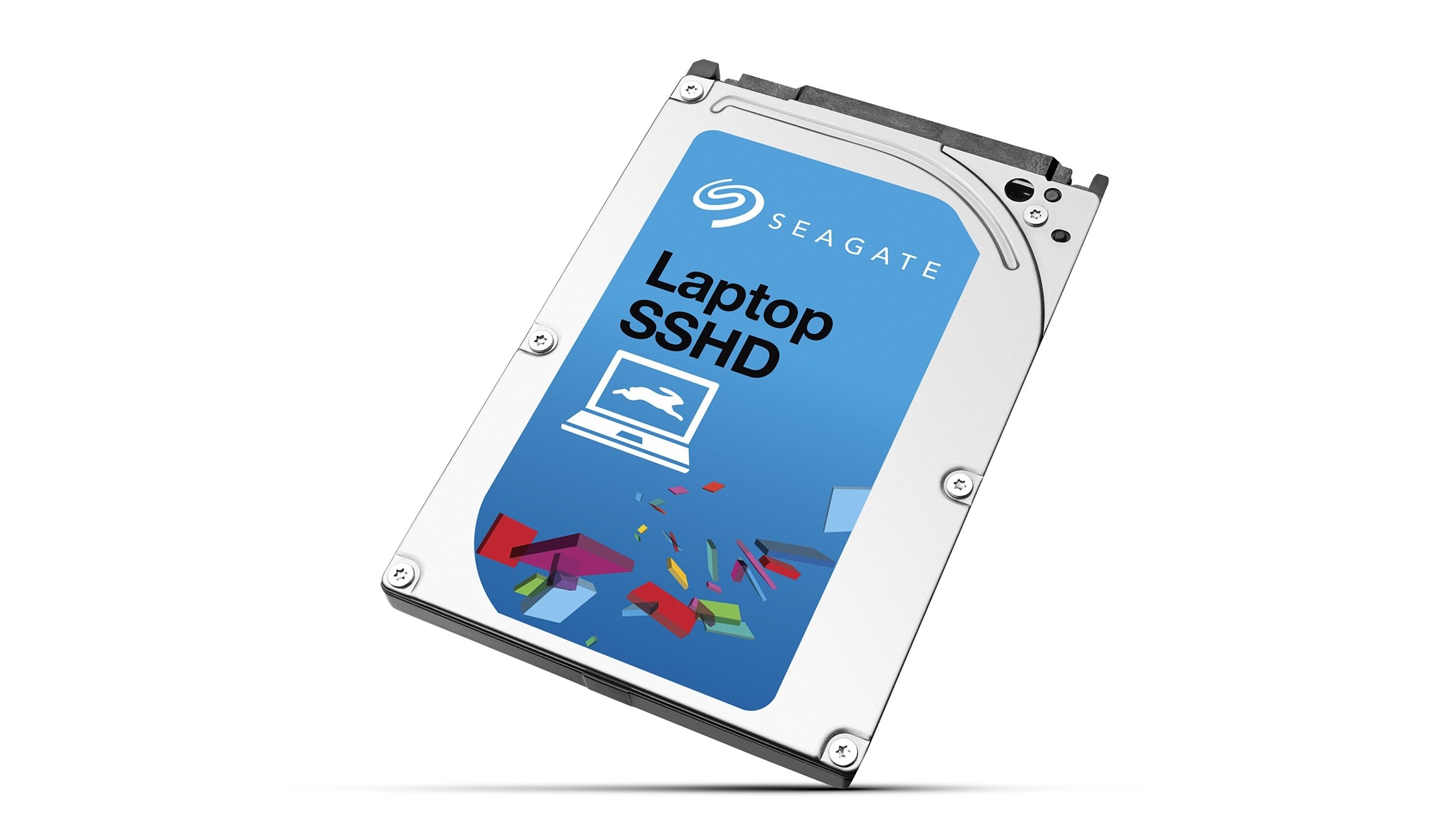 The PS4 makes it easy to replace its default hard drive with a standard 2.5-inch drive, and for the best price/performance/capacity an SSHD is the way to go.
By installing the Seagate 1TB SSHD your PS4 will get a speed boost – so games load faster – while also getting plenty of space thanks to its 1TB capacity.
8. Best laptop hard disk drive for capacity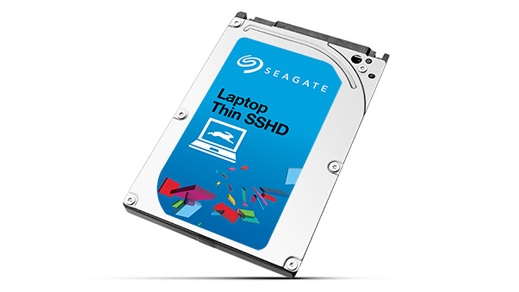 Seagate makes the largest portable hard disk drive in terms of capacity. At 4TB, this carries a near-60% premium on the standard 3.5-inch models.
But it has a much higher data transfer rate, consumes modest amount of power and has a much bigger buffer size (128GB for that particular model).
Its high platter density (they use four 500GB ones) should also translate into much faster read/write speeds compared to physically bigger 3.5-inch hard drives.
In addition, they usually come with a longer warranty (Seagate provides this drive with a 3-year one) as well as a bunch of other features like QuietStep, Ramp Load and advanced format 512e. Just bear in mind that this is a 15mm model which will not fit in all the existing 2.5-inch slots available.
9. Best hard disk drive for laptops (performance)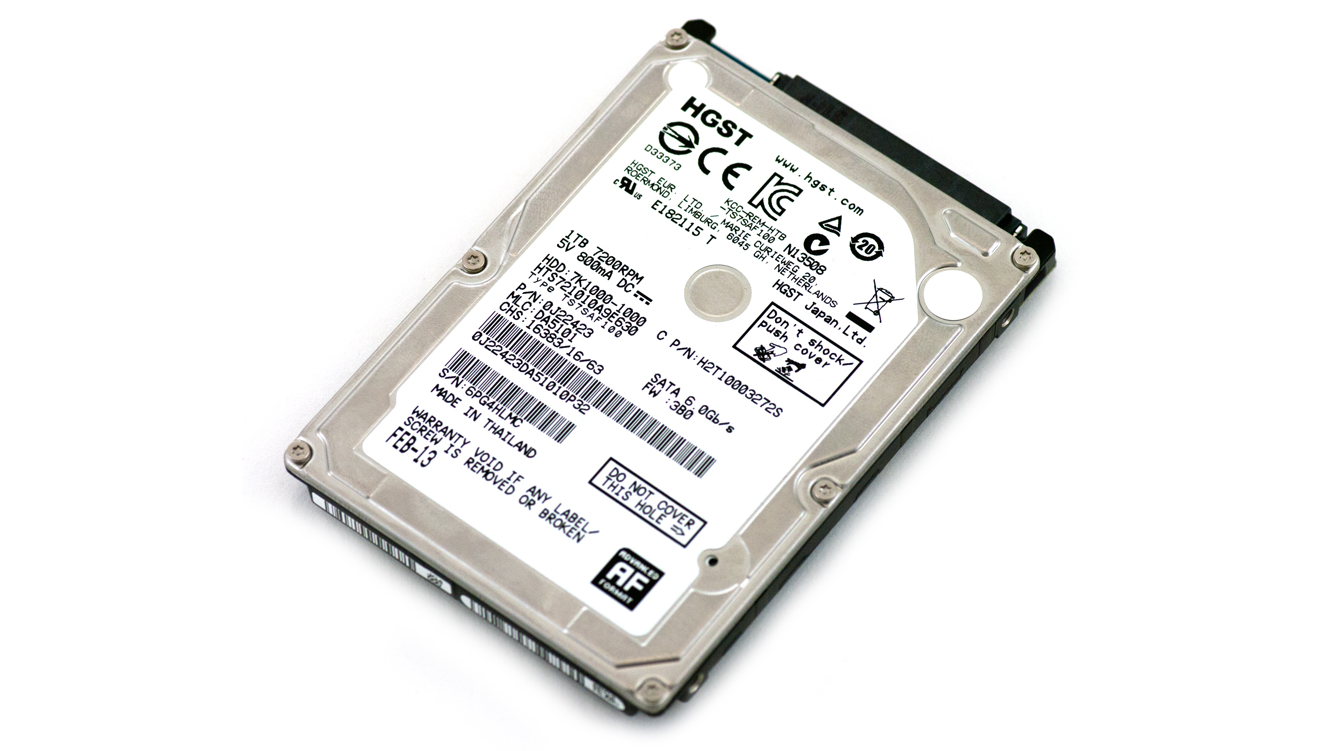 Not everybody can afford to pay for a large capacity SSD so if you're looking for a laptop hard drive that delivers both on performance AND with space to spare, check out the Travelstar 7K1000 from HGST.
It is a 9.5mm model that has a 32MB buffer and two 500GB platters plus a two-year warranty. What makes it special, though, is that it is one of the handful of 7200RPM drive in the 2.5-inch category we know of.
Spinning 33% faster means higher transfer rates but that has a negative effect on power consumption, noise and heat dissipation.
It also carries a small premium over its slower 5400RPM counterparts. Sadly, there are no affordable bigger models and if you're looking for a 2TB hard disk drive, you shall be looking at an acquisition cost of more than £250!
10. Best hard disk drive for laptops (hybrid)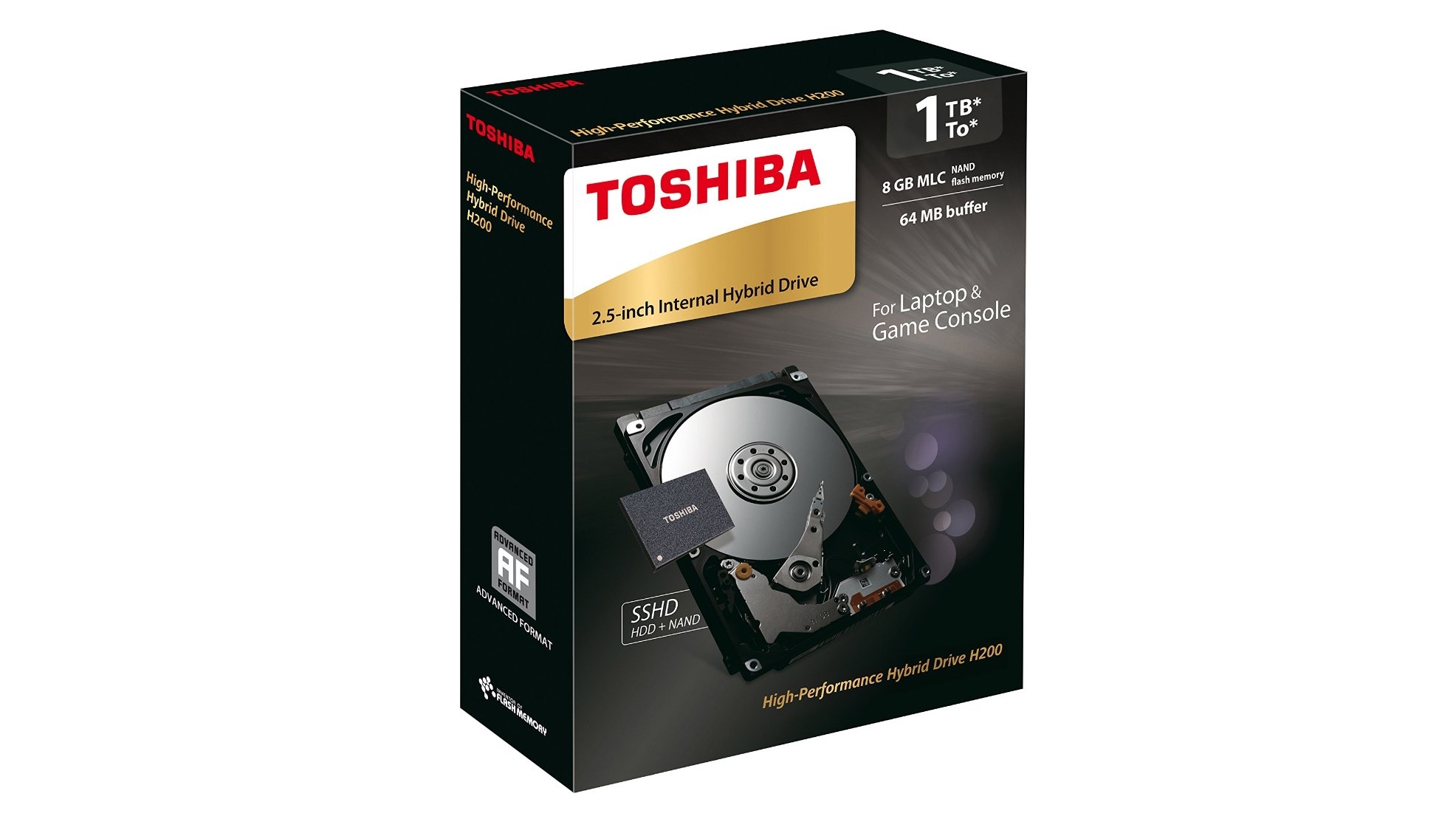 Toshiba is a relative newcomer when it comes to portable hybrid storage devices and its H200 drive packs the usual 8GB of NAND memory (found in competing products) plus 64MB of buffer storage to allow it to surpass traditional hard disk drives.
While its price is around 50% premium over a comparable non-flash drive like the HGST Travelstar, it does come with that additional 8GB of flash.
That should in theory, and in most configurations, boost performance for end users although your mileage will vary depending on your usage.
You also get a two-year warranty which is a nice add-on. As a reminder, a solid state hybrid drive brings together flash memory and traditional spinning hard drive and aims to marry the pros of each (speed and storage capacity).

Powered by WPeMatico